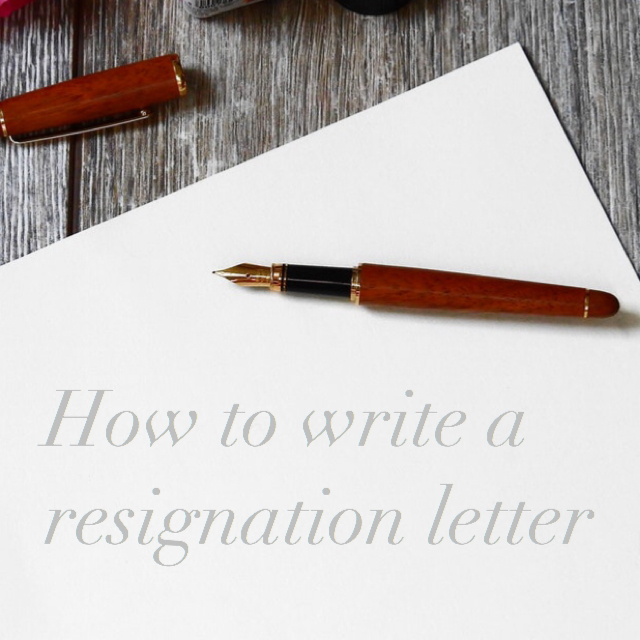 You've been extended an offer for a new position and you have officially accepted.  Congrats!  Your job search has finally come to a close.  But wait.  You still need to tell your current employer…
Giving your notice makes for a stressful and interesting conversation.  Typically your Manager will be caught off guard so it is best to be prepared.  Having a resignation letter ready to go will definitely help as it politely announces your departure.  It will also serve as your official notice to terminate your employment. Most organizations require at least a two-week notice in order to receive any benefits or salary that you may be entitled to once you leave.  Follow the steps below to craft a strong resignation letter or use our FREE 60 Second Resignation Letter template.
What should be in your letter?
A resignation letter not only needs to inform an employer that you are leaving, but it also needs to provide information regarding your last day.  As mentioned above, be sure that your end date is in accordance with your company's policy and that you are giving adequate notice.
Typically it is a good idea to start off by thanking the employer for the opportunities that they have provided.  You can even mention certain accomplishments or career growth that you experienced during your tenure. It is also important to let them know that you enjoyed your time with the organization.
I recommend adding in that you are willing to assist with the transition.  This could be anything from finishing up projects to hiring and training.  This will show that you respect your manager and it won't burn any bridges.  If you leave in good standing, you will have a better chance of using that Manager as a reference for future opportunities.
Keep the letter to the point and positive.  Don't list any negative reasons as to why you are moving on to something new.  This isn't the place to criticize or inform your boss of your new salary.
Header
Start off your resignation letter by entering your personal information in the header section of the document.  Here is an example of how it will look:
John Smith
Address | City, St. Zip | Phone: xxx-xxx-xxxx | Email Address
Address your letter
Once you have completed your header you will need to address the letter.  Typically it should be addressed to your direct boss.  Don't forget to include the date in which you will be presenting the letter.  This will serve as documentation to ensure you fulfill the required notice period.  It should look like this:
Date
Manager's Name
Title
Company Name
Company Address
City, St. Zip
Body
The body of the letter is where you will break the news that you will be moving on to a new challenge.  This is where you will include your the information we listed above.  There is no set order, but we recommend being concise and to the point.  Here is a good sample:
Dear [Manager's name],
I am writing to formally notify you of my resignation from my position at [company name].  My last day of employment will be on [month, day, year].  I was recently presented with a new opportunity that I am very excited about and I have decided to accept their offer.
I have enjoyed working with you and our team over the past few years.  I cannot thank you enough for everything you have done for me.  I am so grateful for every opportunity that you have given me and I have learned so much in my time with the organization.
Please let me know what I can do to assist during the transition period.  I am available to help recruit and train my replacement, and I will make sure all current projects are completed prior to my departure.
Sincerely,
[Your signed name]
You name
Once you have crafted your letter print a copy so you can present it to your Manager.  Don't forget to sign your name.  We always recommend that you present it in person.  Even though this can be a tough conversation, it is worth it in the end.  You want to try your best to part ways on good terms and you do not want to burn any bridges.
There are certain cases where it may be tough present the letter in person, especially if you work remote or are consistently on the road.  If this is the case, then you should try to set up a call to inform your superior of your departure prior to sending the letter.
Finally, be sure to save a copy of your letter.  Since we now live in the digital age, there is a chance that your Manager may ask you to email a copy for them to save in their records.
Dan Metz is the Director of Executive Search and Employee Development at the Resilience Group, LLC, and Co-Founder and Contributing Author for Need a New Gig.  Follow his blog for more great tips like this!