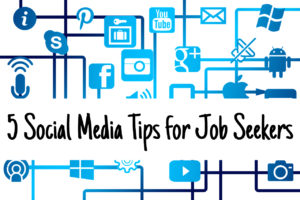 Landing a new position in today's world can be harder, thanks to good old technology.  The process has evolved, and it has become more than just submitting a resume and showing up for an interview.  There is a great deal of behind-the-scenes screening that takes place before a potential employer decides if they would like to meet with you about a position.  One negative social media post could take you out of the process.  Use the tips below to make sure you are covered!
Google Yourself
This is one of the first places that employers will look, so it is a great place to start.  Go to Google and type your name in the search bar.  Hold your breath.  Press search and see what comes back.  Chances are that there may be a few people in the world with your same name so you may not see anything.  If this is the case, I recommend typing in your name and then also your location (city, state) to warrant some better results.  Sift through the results and take note.  Be sure to delete anything offensive or anything that you would not want a possible employer to see.
Clean Up Your Social Media Accounts
This one may sound like a no brainer, but it is always smart to do a double check.  You need to wrack your brain and make a list of all of the social media accounts that you have ever created.  I say to wrack your brain because you don't want to forget about that MySpace page from college that may make employers run in the other direction!  Go through your accounts and pages and be sure to clean them up. Remove any posts or photos that come across as unprofessional.
Make Sure Your Accounts Look Professional
Once you have removed all of the unprofessional content, it is a good idea to "freshen" up your social media accounts.  Make sure that you have a professional picture and that your information is all up to date.  LinkedIn is typically the most effective form of social media when it comes to finding a job, so you want to ensure that your LinkedIn profile is current.  If you don't have a LinkedIn profile, or yours needs an overhaul be sure to check out our 7 Tips To LinkedIn Profile Perfection or sign up for our free 5 Minute LinkedIn Makeover email course.
Watch Your Activity Online
If you are actively looking for a job, it is a good idea to keep an eye on your activity.  Watch what you post and be sure to review what others "tag" you in.  If you are active in the job market, your social media pages may already be getting traffic.
Stay Active
Staying active is another good tip.  Some candidates will delete all of their social media accounts while they are looking for a new position, which is is a bad idea.  Research shows that employers are less likely to reach out to a candidate if they cannot find them online.  You don't want to put a halt on your social media activity, as it could raise a red flag.  Instead, post like normal and keep it professional.  This is a good time to talk about achievements, articles you have written, and groups you are a part of.
Dan Metz is the Director of Executive Search and Employee Development at the Resilience Group, LLC, and Co-Founder and Contributing Author for Need a New Gig.  Follow his blog for more great tips like this!