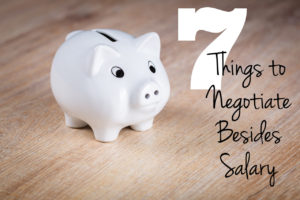 You have the job offer in hand and you are ready to start to negotiate your offer – congratulations!  You have already decided that you want to ask for a little more in base salary, but what else can you negotiate?  There are many pieces to your total compensation package aside from salary, and you can add thousands of dollars to it by just asking!  Take a look at the list below and decide which are most important to you.  When you are negotiating salary, be sure to ask for some of these as well.  You may be surprised that some employers won't even blink before they tack them on!
1. Paid Time Off
Vacation time or paid time off is usually the first thing you think of after salary when it comes to accepting a new job.  Most companies will say that their policy is to start you out with the standard two weeks.  The fact is that they usually have an exception to that rule.  It definitely doesn't hurt to ask for an additional week.  If you currently have more vacation than what they are offering, use it to your advantage.
An example of how to state it would be "NANG industries currently gives me 4 weeks vacation, but I would be happy with 3 as I am very interested in this role."
2. Sign on Bonus
Another method that employers use to get candidates over the hump is the sign on bonus.  You typically will see this when they do not have a lot of flexibility on base salary.  You do have to be careful, as they will typically have stipulations.  You may need to be employed for a certain amount of time before it is paid out, or if you leave you may have to pay it back.  Again, you can use your current situation to your advantage.
Use a scenario like this: "NANG industries currently pays me 60K, and I was really looking for 65K in order to make a move.  I know that you do not have any flexibility in base pay and I am happy to take a lateral move, but is there anyway to get me to the 65K with a sign on bonus?"
3. Flexibility
Flexibility has quickly moved up the list of "perks" when it comes to looking for a new job.  Some companies have introduced a "core hours" structure which provide employees the flexibility to come in early or later as they choose.  It is good to ask because this policy may already be in place and it is available to all employees!  You may also want to inquire about work from home options.  In today's world, many jobs can be done remotely, and if you worked from home a few days a week, it could be a nice savings.
4. Equity or Stock Options
Equity or stock options are a great thing to add for a couple of reasons.  First, it adds to your total compensation package even if the value is not significant at the date of hire.  Second, it shows the employer that you believe in the company and their mission.  Third, it shows that you believe that your personal performance is going to help the business successfully grow, so it ultimately pays dividends in the long run.
5. Educational Expenses
If you are continuing your education, or plan to do it in the near future, you should definitely inquire about the company's educational reimbursement policy.  Some companies may already have a system in place and they can provide you some additional information.  If you are going for a specific certification or degree that applies to your new role, there is always a chance that the company may completely cover the cost.  Similar to the sign on bonus, there will be certain stipulations that you will need to remember, or you may have to pay them back.
6. Equipment Reimbursement
I think that it is always a good idea to ask what equipment is provided, and what you will need for your position.  If you are using your own equipment, chances are that you may be able to get some sort of reimbursement.  Even if it is just $50 a month for your cell phone, it still adds up to an extra $600!  If a company doesn't tell you about this in your offer, be sure to ask.  This is usually easy to obtain!
7. Reimbursement of Moving Expenses
Finally, if your new position requires you to move or relocate, be sure to ask your employer to cover the cost.  This can include a number of things including travel expenses, physical transport of furniture/goods, lease termination penalties, storage fees, closing costs, or other associated costs.  In some cases they may cover everything.  Others may only cover certain items.  Either way, be sure to ask before you accept the job and get it in writing.
Dan Metz is the Director of Executive Search and Employee Development at the Resilience Group, LLC, and Co-Founder and Contributing Author for Need a New Gig.  Follow his blog for more great tips like this!