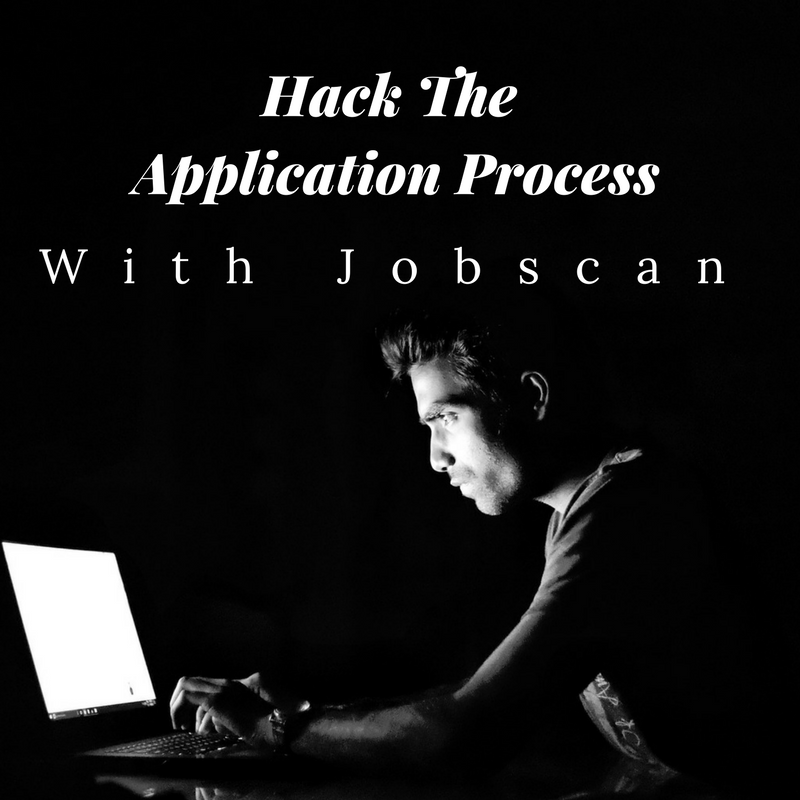 **This post contains affiliate links, but I only represent products I trust!
Jobscan is a company that has come to my attention in recent months. The product Jobscan offers, the concept, and its potential for the future of job searching makes it the coolest new piece of technology I have seen in a very long time.
Forget AI (or Artificial Intelligence if you aren't following the Recruiting Tech scene).
Jobscan takes optimizing your resume, and tailoring your resume to a job description to a whole new level!
Resume Basics

As long as I have been working with job seekers, I have stressed the importance of customizing your resume to be best aligned with the job you are applying to. Of course, this isn't always possible. So, before I move on to the "customized" version, let's briefly discuss your basic resume.
You must start with a solid "Master Copy" of your resume – one that outlines your core skills and emphasizes quantifiable results. Whether it is a hiring manager, an HR professional, or a third-party recruiter, they are going to want to know what you accomplished in your current position.
Did you save the company money?
Did you increase sales?

Did you improve the Customer Service process?
Regardless of what your position is, you are doing something to keep the ship afloat. What is it? What makes you good at your job? Someone once posed this question to me in an interview, and I feel your resume should summarize this: "what is one thing you do everyday that is better than everyone else?"

A Customized Resume

Once you have your "Master Copy" of your resume, you can circle back to creating a customized version. This is where Jobscan comes in. Jobscan provides an instant analysis of how well your existing resume is tailored to match a job description you are interested in, and how it can be optimized.
You want to aim for a match rate of 80% to any job you are applying for. What is that rate based on?
The 80% rate is based on:
Hard skills (or keywords mentioned in the job description)
Education (when the job requires a minimum level of education)
Soft skills (skills such as problem solving and communication that won't be listed as requirements, but are critical to the success of a job)
Job title
Jobscan will pick out cliched or negative keywords that you will want to omit from your resume (such as 'team player').
Why Jobscan?

Jobscan helps simplify the application process by using similar algorithms that many ATS (applicant tracking systems) use. It can detect which ATS each company is using, and give your resume the best possible chance of coming up as a "recommended applicant".
What Does Jobscan Look Like?

Jobscan has a box for you to paste your resume (Step 1), and then paste the job description of a position you are interested in applying for (Step 2).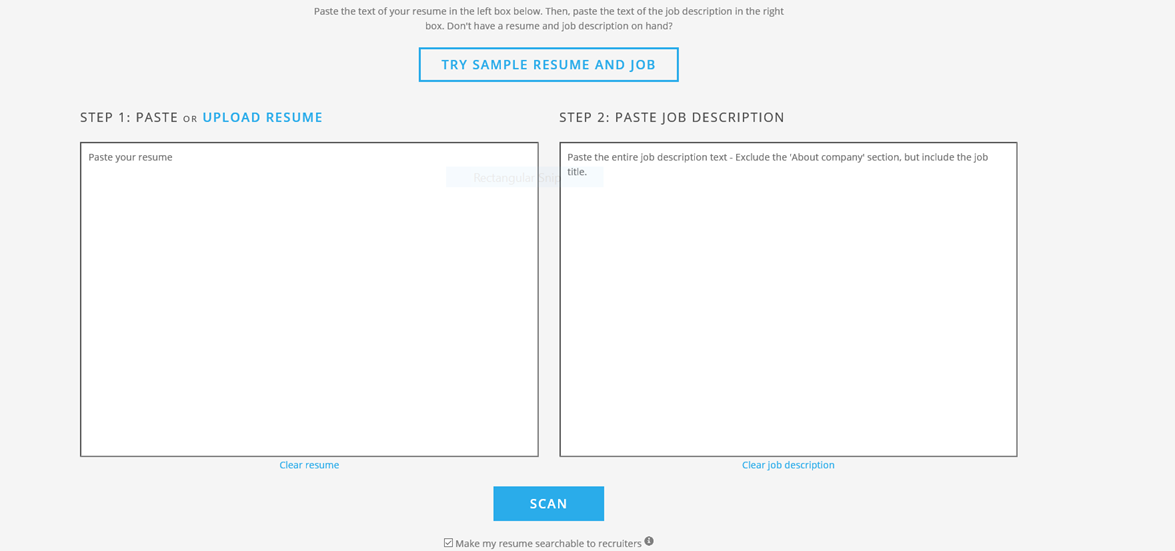 Jobscan will then see which keywords, soft skills, and buzzwords occur the most often between your resume and the job description.
The system will track the job descriptions on the Jobscan Dashboard to assist you in keeping track of which jobs you are applying for. It will then help you turn vague, bulleted points into compelling accomplishments.
Please note: you do not need to add ALL missing skills for an optimized resume! There could be 15 or more missing skills, so choose the most important in the job description.

Jobscan also reads ATS – specific findings, such as plurals, for more accurate matches.
"Highlighted skills" allows you to quickly and efficiently edit your resume to better align with important keywords.
Other Jobscan Features

Jobscan offers additional features, such as:
Resume Manager – this saves up to 20 unique, tailored versions of your resume, so they are right at your fingertips
Live Scoring – which gives you suggestions to improve your match rate
Job Matcher – an intelligent job board that matches you to jobs based on skill sets
Job Recommendations Through Indeed – you'll find a list of jobs with similar skills from Indeed. Indeed automatically syncs with your IP address to provide you with jobs within a 25-mile radius of your location.
Saved Scans – Jobscan will also save previous scans and can make them visible to recruiters if you choose. You are also able to track interviews in your scan history.
What Does Jobscan Cost?

You are probably wondering what this great tool will cost you, right?
Well, it might be less than you think! Through my affiliate link HERE, you can get 5 FREE scans per month!
If you are applying to more than 5 jobs, there are two other pricing options:
The first I'll call the FREE + 3: this is 4 months of Jobscan for $89.95, which breaks down to less than $22.50 per month

For unlimited scans (or for enterprise users), you can pay a monthly fee of $49.95 per month
Jobscan will only be expanding upon their offerings as time goes on, so why not give it a try? You only have your dream job to lose!
by Natalie Lemons
Natalie Lemons is the Founder and President of Resilience Group, LLC, and The Resilient Recruiter and Co-Founder of Need a New Gig. She specializes in the area of Executive Search and services a diverse group of national and international companies, focusing on mid to upper-level management searches in a variety of industries. For more articles like this, follow her blog. Resilient Recruiter is an Amazon Associate.