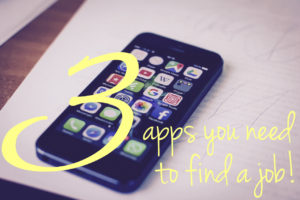 Rewind back to the early 2000's and remember when you found out that you could look for jobs on the Internet. How incredible was that? It sure beat looking through the newspaper! Not to mention how easy and fast it was.
At the time Monster.com was the best in the business (valued around 8 billion) and if you needed a job that was the place go. Fast-forward to 2017 and things have changed.   Monster has fallen behind indeed and CareerBuilder and has been on a steady decline. The once juggernaut is slowly becoming a ghost town.
The point to this quick history lesson is to remind you that technology is always changing. It is important to stay informed and up to date on the latest trends when it comes to finding a job.
The problem is that majority of people only look for a job every so many years.   Even if it has only been 2-3 years since you have looked for a new role chances are that some of the tools you used before are outdated. If you are a job seeker you need to be where the employers are currently looking and obtaining their talent to give you the best shot.
3 apps for a successful job search
Today, everyone does everything from the palm of his or her hand. This includes looking for a new position. You would be surprised that majority of candidates are actually doing it at work right from their phone! Personally I don't recommend looking for a job during working hours, but I can offer some app suggestions that you can check out on your lunch break!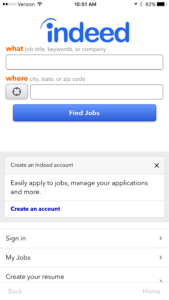 1. Indeed

Number one on my list has to be the indeed app. You have heard me talk about indeed before, as I am a huge advocate. Indeed is straight up killing it right now when it comes to looking for a job. They are the best in the business and they make it as easy as can be. If you missed my Ultimate Guide to Finding Your Next Job With Indeed you probably should check it out!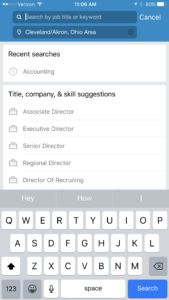 Their app is basically a smart phone friendly version of the website. It has a "Google" feel when it comes to looking for jobs and you can search by position and location. You can also create an account where you can upload your resume and apply for positions quickly right through the app.
2. LinkedIn Jobs
LinkedIn is another site that is also currently atop the recruiting world. This app is very well designed. It gives you the ability to search for positions and easily apply with your LinkedIn profile. You will want to make sure that your LinkedIn profile is updated and looking strong. Be sure to check out my 7 tips to LinkedIn Profile Perfection to polish up your page before applying!   The LinkedIn jobs app will also generate possible job opportunities based on your profile and will notify you when new roles become available.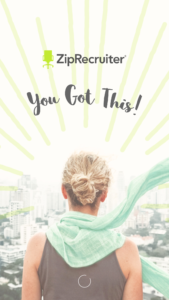 3. ZipRecruiter Job Search
ZipRecruiter's job search app takes our third spot. Zip Recruiter has been the new up and coming job site over the past few years. Their app is actually the #1 rated job search app on iPhone at the moment. Similar to indeed's app you have the ability to search for jobs in your area and use their "mobile apply" feature if you have uploaded your resume.
Glassdoor (Honorable Mention)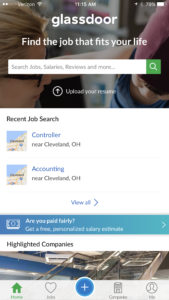 Glassdoor is another good app to have when it comes to your search. It has a more intricate interface where you can search for jobs and obtain information on companies you may be interested in. It gets the honorable mention because it is a great app, but a lot of the data is user driven. If someone had a bad experience with a company chances are that they will write a poor review. These results could be skewed, as there may be tons of happy employees who don't write reviews because they aren't looking for a job. You also have to be careful when it comes to looking at salary information, as every company is different. Remember that employers will base your salary off of your current compensation, experience, and other factors not what Glassdoor says.
Conclusion
Do yourself a favor and download these apps to see what you prefer and what works best for you! Most of these apps have similar features, but they may yield different results. You can perform searches on all of them very quickly. I suggest having 2-3 apps and spending a few minutes a day on each to make sure you see all available opportunities!
Dan Metz is the Director of Executive Search and Employee Development at the Resilience Group, LLC, and Co-Founder and Contributing Author for Need a New Gig.  Follow his blog for more great tips like this!