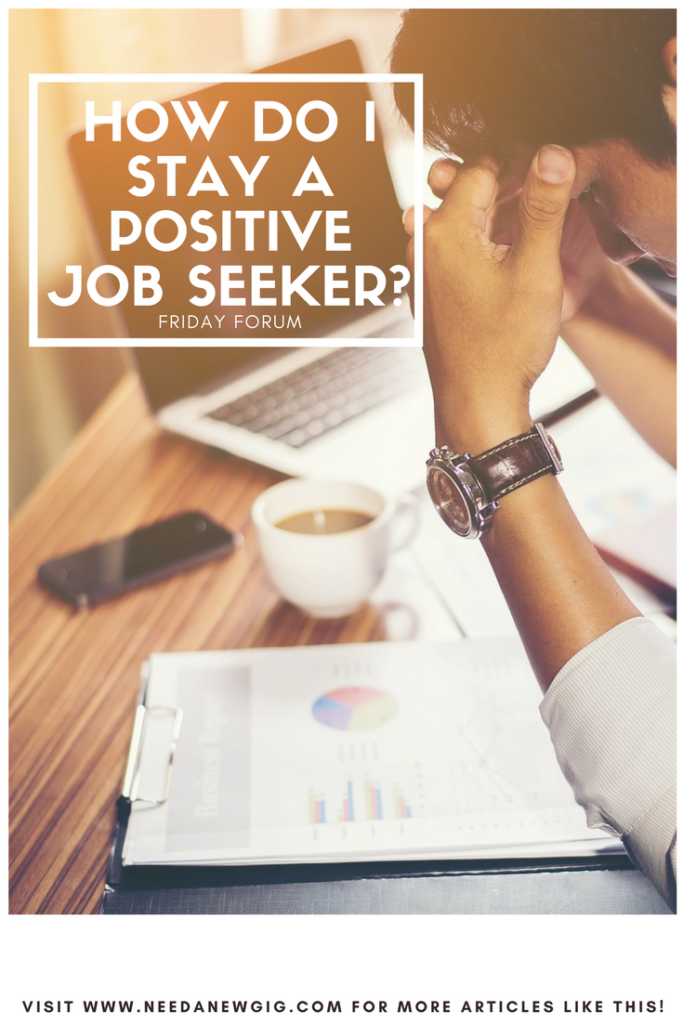 Welcome to the Friday Forum!
Every Friday, we take a question submitted by one of our readers and have our professionals field it and provide advice.  We then encourage you to comment below and give your personal take!
Here is This Week's Question:
Michelle asks:
"I feel like I have been job searching forever and it is really starting to take it's toll on me.  I have had a number of interviews, but nothing has come to fruition.  Honestly, the rejection hurts!   I am dying to make a change out of my current position, but at the same time I don't want to just take any job.  What can I do to stay positive in my search?  Am I ever going to land something?"
It is easy to become frustrated when searching for a new job, especially if you have been looking for awhile.  This can seem even harder if you are unhappy in your current role or if you are out of work.  Don't forget that rejection happens to everyone.  Use the tips below to help you stay a positive jobseeker!
How To Stay a Positive Jobseeker:
Create job searching habits
Try your best to make job searching a habit until you find your new opportunity.  By keeping a regular routine, you will become more focused and ultimately more successful in your search.  A good idea is to schedule a 15-30 minute job searching window every day.  This will force you to not only look for new positions, but it will also help you think less about finding a new job when you should be doing other things.
Learn from every experience
Even though it is incredibly tough to come back after being rejected by an employer, it is important to learn from every experience.  Ask for feedback to see where you may have missed the mark.  Reflect on the process and think about if there was anything you could have done differently or better.  Use that information to tweak your game moving forward, put the rejection behind you, and look towards your next opportunity.
Know what to expect
Knowing what to expect in the process is also a great way to stay positive in your search.  I can't tell you how many times I have had candidates be down on themselves because they hadn't heard back from an employer as soon as they had hoped.  Then, out of nowhere they are back in touch and an offer is heading their way.  It is important to try your best to gain an understanding of the company's process.  Depending on the organization, some roles can be filled in a week, while others may take months.  Do your research on sites like Glassdoor to get a feel for the company's interview process.  If you already have an interview or conversation scheduled, be sure to ask them about their timeframe, when you should expect to hear back, and when you should follow up.
Find the positives and use them to your advantage
Make sure that you celebrate every small victory.  So you didn't get the job, but you were able to get through the initial resume process and have a phone interview!  That is a step in the right direction!  Now use that to your advantage.  Since you didn't get called in for an in person interview, maybe you need to strengthen your phone screen skills?  Take notes on how your call went and see what you can do better next time.  Even if you just received a rejection email from submitting your resume, it is still a small win.  At least they recieved it and someone looked at it.  Now may be the time to go back and re-work your resume.  The key is to always keep trying to be better.
Ask for help
Another good option is to reach out to a family member or friend to see if they may be able to offer some suggestions to help in your search.  This might sound silly, but sometimes just talking with someone will help you come up with a new idea or even identify something that you may be doing wrong.  Worst case scenario they can offer some much needed comfort!
Stay strong
Looking for a new job can be a job in itself.  In today's world you are submitting your resume against hundreds of other applicants.  Sometimes it can be a tall task just to have your information looked at.  Try your best to stay strong and remember that there are millions of other jobseekers in your same position!
Give yourself a mental break
Finally, be sure to give yourself a mental break.  Don't overload your mind with the fact that you need a new job and that it isn't happening at the moment.  As mentioned above, try to only think about your search when you are searching.  In the mean time, be positive and good things will come!
What are Your Thoughts? Comment Below!
How do you stay positive when you aren't having luck with your search?
Dan Metz is the Director of Executive Search and Employee Development at the Resilience Group, LLC, and Co-Founder and Contributing Author for Need a New Gig.  Follow his blog for more great tips like this!