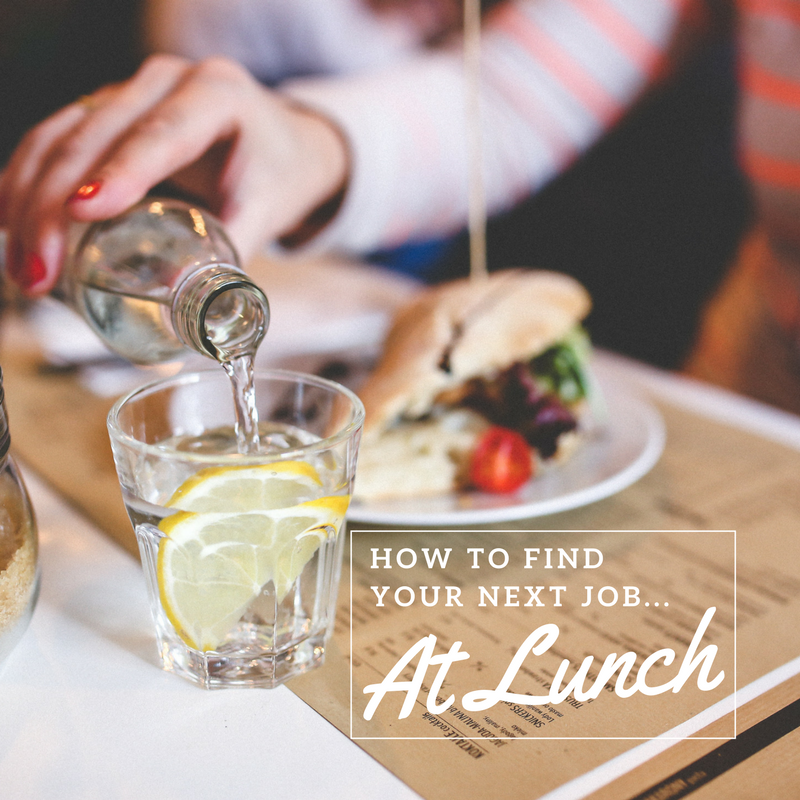 How to Find Your Next Job At Lunch
If you are like most of us trying to find the time to look for a new job can be a job in itself.  Between your current position,  family/friends, daily responsibilities and sleep it doesn't leave much time to focus on your search.  Let's face it, even preparing for a job search can take a lot of time.  For some of us it is hard enough to update our resume.  So how do you find your next job when you don't have time to look?
Enter the lunch hour…
If you are serious about finding a new role and are short on time, this could be a great option for you. Full disclosure, I am not saying that you can complete a job search in one 60 minute session!  However, if you come up with a plan you can use this time to your advantage.
If you are lucky enough to have an hour for lunch we recommend spending 30 minutes eating lunch/clearing your head and 30 minutes on your search.  If you have a shorter lunch, find the ratio that works best for you.  If you plan, stay organized, and set goals you will be successful.  It may take a little longer since it is broken up over a series of days, but you will still achieve your desired outcome.
One other thing that I like to mention is to make sure you are aware of your surroundings.  I never recommend searching for a job at your current place of employment as it is flat out too risky.  There is no reason to chance burning bridges with your current employer or losing your job before you have a new one.  Something as simple as being in a conference room with your laptop could raise an eyebrow.   Instead try to work on your search in a private area.  This could be a fast food restaurant/coffee shop, a park, at home if you live close, or even just in your car.
Once you find a spot that works it is time to get to work.
Lunch Break Job Search Tips
Check out this list of things that you can do on your lunch break to help land your next position.  Remember that it is important to break up some of these tasks over a few days in order to get them completed.
Plan, organize, and set goals
While this may seem simple, this is easily the most important thing to remember if you want to have success.  Since you only have limited time every day, it is important to have a plan and stay organized.  We recommend tackling your tasks one at a time.  Some tasks take longer then others so make a priority list and check them off as you complete them.  Reassess every week and come up with a game plan.  For example, if you have an interview coming up, your time may be better spent practicing and preparing instead of searching the boards.
Work on your resume
Once you have your plan in place, your first big task is to work on your resume.  When this is complete it will make it much easier to maintain your search on your lunch break.  This can be done quickly if you have an old resume on file and you just need to update your most recent position.  If you are starting from scratch be prepared for it to take a few lunches until it is ready to go.
Browse job boards
Today most open jobs are posted online.  Take this time to set up accounts with all of the major job boards.  Look at sites like Indeed, LinkedIn, Monster, ZipRecruiter, and CareerBuilder.  Search for openings that match your background and get the applications rolling!  You can also set up job alerts to have new roles emailed directly to you to save time during future lunches!
Research
After you have applied to a few positions, use this time to conduct some research.  You can search out companies that you have applied to and also companies that you are just generally interested in.  Every once in awhile you can find a position on a corporate site that isn't on a job board.  If you land an interview make sure you are familiar with the company, what they do, and the people who work there.
Follow up on applications
Use this time to follow up on some of the positions that you have applied for.  If you received a response and have a contact, reach out to them directly to check the status of your application.  If not, use sites like LinkedIn to identify the Hiring Manager or someone in HR that may be able to assist.
Strengthen Network
Networking is one of the best ways to find a new position so it is important to stay on top of it!  Reach out to past colleagues/managers and let them know that you are in the market for a new position.  Use sites like LinkedIn to expand your digital network and gain exposure.
Practice
Landing an interview is only half the battle when it comes to finding a job.  With that being said, it is important to make sure that you are prepared.  You can use this time to practice interview questions and review your skills to ensure a solid meeting or call.
Go to lunch
Ironic right?  Use your lunchtime to meet up with an old boss or someone in your network that may be able to assist in your search.
Dan Metz is the Director of Executive Search and Employee Development at the Resilience Group, LLC, and Co-Founder and Contributing Author for Need a New Gig.  Follow his blog for more great tips like this!