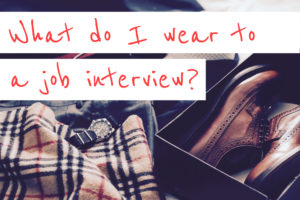 As the workplace continues to evolve, this becomes one of the hardest questions to answer. You want to be presentable and put your best foot forward, but at the same time you want to make sure you fit in with the culture of your perspective employer.
The key to knowing what to wear for an interview is to learn more about the company and their environment. In today's world, it seems like every organization has a different standard when it comes to their dress code and expectations.
Aside from learning about the company, it is also important to know what certain dress codes entail.
Three Key Types
Professional – A professional dress code is when companies require employees to wear a suit or dress clothes. This means that men would wear a shirt, tie, and jacket and women would wear a pant suit, or skirt and blouse.
Business Casual – A business casual dress code is a step below professional. You still need to be in dressier clothes, but you can be a little more comfortable. Typically men will wear dress pants with a polo or button down shirt, and women will wear a skirt or pants with a blouse or sweater.
Casual – A casual dress code is everyday casual clothing.  Pajama pants or yoga pants are not included in this category – ever!
No matter what the dress code, it is still vital to look your best and be professional.

Still Not Sure?
Use these guidelines:
Research – Doing your homework is key and can give you some great insight. Be sure to look at the company website, job description, reviews etc. to give you an overall feel for the organization.
Type of position – The type of position that you are interviewing for can also shed some light on what to wear. If you are interviewing for a professional position, it's probably a good idea to bring out the suit. On the flipside, if you are interviewing for a more casual role, then chances are that jeans and a nice shirt will do!
Ask – If your interview was set up through an HR contact or Recruiter, send them a quick note to ask what their dress code is.
Be safe and overdress – If you are still unsure, your best bet is to overdress. You can always tone it down for your second interview, or take off your tie when you arrive.
Look in the mirror – Finally, remember that how you dress is a direct reflection of how serious you are taking the hiring process. It ultimately shows how bad you want the job. If the Hiring Manger was deciding between you and another candidate, your presentation and attire could make the difference in landing that next opportunity.
Dan Metz is the Director of Executive Search and Employee Development at the Resilience Group, LLC, and Co-Founder and Contributing Author for Need a New Gig.  Follow his blog for more great tips like this!