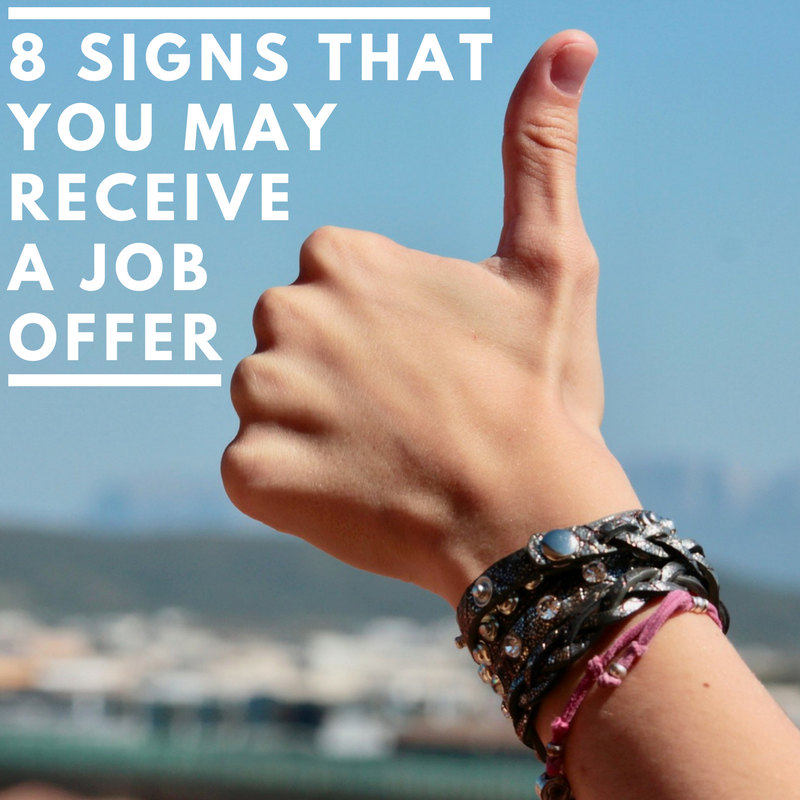 8 Signs that you may receive a job offer
You just finished your interview and you feel like you nailed it!  Everything went smooth and you are confident that you impressed the folks that you met with.  Now you wait.  While it may only be a few days until you receive feedback and hopefully a job offer, it can feel like forever.  The good news is that while you sit back and analyze your interview, you can also look for signs that may be pointing to an offer.
1. Your interview goes longer than expected
Did your interview last longer than the scheduled time window?  This is typically a sign that things went well.  Most interviewers will make their decision rather quickly on if they want to hire someone or not.  Chances are that if they didn't think you were the right fit, they would have stuck to the allotted time.
2. Company benefits
If you get the feeling that your interviewer is selling you on the company, this is also a great sign.  Once they start pointing out the benefits of working for the organization, growth potential, goals, etc., they are trying to get you even more excited about the opportunity.
3. Availability
"When can you start?" This is obviously very positive.  If your interviewer talks about a start date, or that they want someone in place by a certain time, an offer may be coming soon.  Employers usually don't provide a ton of detail regarding time frames unless they are serious and ready to move.
4. Interview status
This one is a big one.  An employer may ask if you are interviewing for any other positions, or if you have any current offers on the table.  If the employer didn't want to hire you, then why would they care about your interview status?  Reality check: they want to make sure that they don't lose you.
5 . Start to negotiate compensation
Compensation might be a standard prescreening question, but it can also point to greater things to come.  If the interviewer drills down and starts asking specific questions about salary, it could be a key indicator that an offer is on its way.  They may reiterate the salary range for the role, or even ask what you would need in order to accept the position.
6. Office tour
An office tour isn't something that happens on every interview.  Usually this is another sign that things are moving in the right direction.  They want to have you get a feel for the environment and meet other people that you could be working with.  This will help you feel more comfortable about accepting the role.
7. References/Background check
If you hear that your references have been contacted or that a background check has been started, it's safe to assume that an offer is coming.  You may have to wait until the results come back, but this is typically one of the last steps in the process.
8. You just have that gut feeling!
Finally, as crazy as it sounds, you may just know!  If your interview went extremely well and you connected with everyone, chances are that you are all on the same page.
Dan Metz is the Director of Executive Search and Employee Development at the Resilience Group, LLC, and Co-Founder and Contributing Author for Need a New Gig.  Follow his blog for more great tips like this!