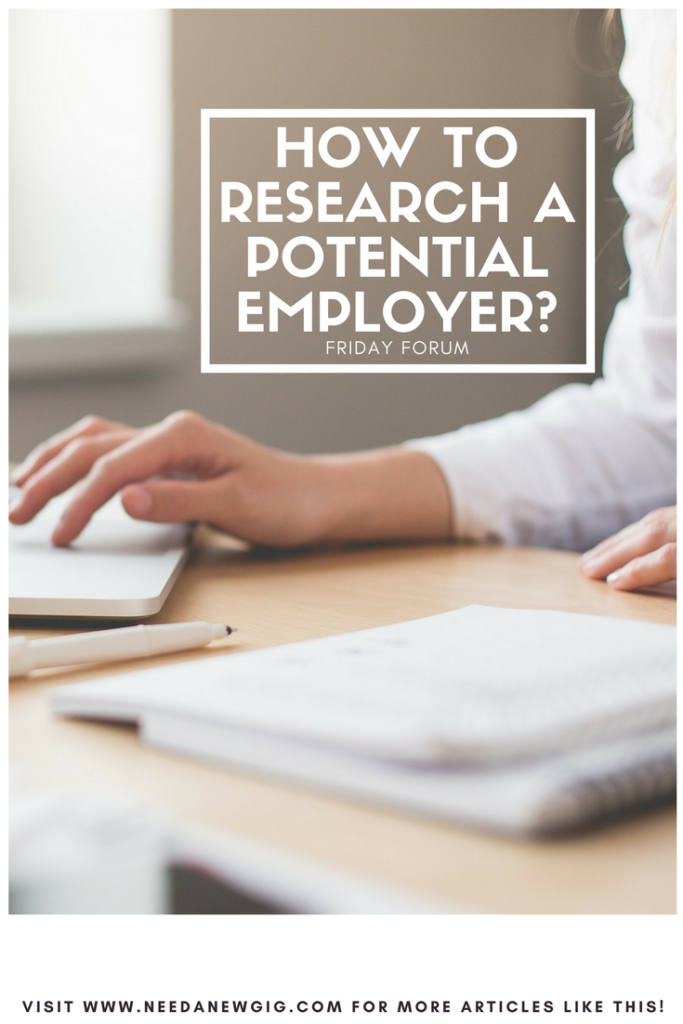 Welcome to the Friday Forum!
Every Friday, we take a question submitted by one of our readers and have our professionals field it and provide advice.  We then encourage you to comment below and give your personal take!
Here is This Week's Question:
Edward asks:
"I have been looking for a new job for a few weeks and I just landed my first interview.  When I applied for the position I did some general research to get an inderstanding of the company, but I want to make sure I am prepared for my meeting.  Are there any specific ways I should go about researching a potential employer?  While I am hoping to land the job, I am also wanting to make sure that I fit in with the culture and environment of the company."
If you have read any of my previous pieces on interviewing you know how much I endorse preparation.  It is extremely difficult to have a successful interview if you are not prepared.  Knowing as much as you can about the potential employer is vital!  Not only will it give you a better understanding of who they are and what they do, but it will also help you answer questions during your interview.  Taking the necessary time to research your potential employer will also help determine if it is the right culture and environment for you.
How to research a potential employer?
Company website
A great/obvious place to start is the company website.  It should provide you with everything you need to know about the organization.  This includes the company mission, management team, history, product/service line, locations, etc.  I recommend jotting down some notes and any questions that you may have.  Review your notes prior to your meeting so they are fresh in your mind and bring your questions with you to the interview.
LinkedIn
LinkedIn is an awesome resource when it comes to researching a potential organization.  You can easily search for the company profile and it will provide you with up to date company information.  You will be able to see company news, open jobs, recent hires, and even employees that currently work for the organization.  Browsing employee profiles will give you a good sense of the types of candidates that they tend to hire.
Glassdoor
Glassdoor is a website where users can provide feedback on their experience with a company.  It is a great resource, but since it is user driven you do have to be careful.   You can browse company reviews of current and past employees to get an idea of their work experience at a particular organization.  Users can also provide their interview experiences as well.
Other social media streams
In todays world almost every company has a social media presence in some form.  Most companies use their social media accounts to show the world what is happening inside their organization.  This will give you a great sense of the company culture, employee events, and even the ways they give back to the community.  Some good examples to look at are Facebook, Twitter, Instagram, etc.
Conduct a google search
Jump on google, type in the company name, press search, and see what comes back.  While you may have already visited some of the sites that are returned, it is still worth taking a look.  You can also look under the news section to see if there are any recent updates on the company.  You may find out that the company made an acquisition and is growing, or maybe the company just reported some losses and is underperforming.
Reach out to your network
Do a quick search on LinkedIn to see if you are connected with any current employees or if any of your contacts have connections at the potential organization.  Reach out and see if you can pick their brain.  If you do not have anyone in your network that can help, you can always grab the ear of a friend or colleague to get their take on the company.
What are Your Thoughts? Comment Below!
How do you research a company when you are going through the interview process?  Let us know your thoughts!
Dan Metz is the Director of Executive Search and Employee Development at the Resilience Group, LLC, and Co-Founder and Contributing Author for Need a New Gig.  Follow his blog for more great tips like this!