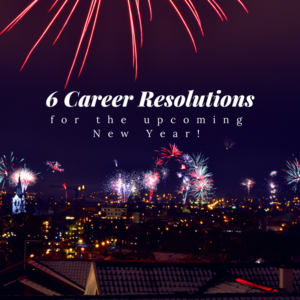 It is crazy to think that we are getting closer to a new year!  Where did this year go?  Most of us tend to be so busy between work and our daily lives, that the time flies by.  Typically, it is around this time of year when everyone starts thinking about their New Year's Resolutions.  Things like joining a gym, traveling, and more time with family and friends usually top the list, but what about your career?
6 Career Resolution Ideas
1. Career Brain Storm and Review Session
This year, a career resolution should be at the top of your list!  Take some time to review your current position and your career goals.
Here are some examples of questions you should ask yourself:
Am I happy at my current job?
What is my current growth potential?
Am I on track to achieve my future goals?
How is my work/life balance?
How is my commute?
How is my compensation?
These are just some ideas of questions that you should be asking yourself, but they can definitely paint a good picture of how happy you are in your current role.  If you can answer majority of these questions in a positive light, then you are probably in pretty good shape.  If not, it may be time to consider a change.
Check out:  New Year, New Job?  10 Signs it is Time to Look
2. Talk with Your Boss
Another good resolution is to schedule a sit down meeting with your boss.  Some of these things may be covered in your annual review, but either way it is good to have a quick, one on one conversation to gauge your performance and growth potential.  During your meeting, you can ask your manager about goals for you, and also the company in the new year.  You can inquire to see if there is any additional responsibly that you can be taking on, or what may be needed in order to get that next promotion or raise.  A proactive conversation will show your desire to grow with the organization, and that you want to make an impact.
3. Update Your Resume
Even if things are going great in your current role, it is always a wise idea to keep your resume updated.  Some of the best opportunities arise when you are not looking for a new job, and it is great to be prepared and ready!
Check out: 5 Reasons To Keep Your Resume Updated for more info!
4. Keep Networking
Networking has become the holy grail when it comes to career opportunities.  The majority of well-networked professionals don't need to look for a new job.  New opportunities tend to find them.  Make an effort to become more active in your networking, whether that be attending social events, or just expanding your LinkedIn network.
Check out: What is Networking and How Can It Help You Find a Job? 
5. Consider Further Education/Certifications
If you have been meaning to go back to school to get that advanced degree or certification, now is a great time to start doing some research.  Check out local universities and programs to see what is available, and if it will work with your schedule.  It is also a good idea to check in with your employer to see if they offer any tuition reimbursement, flexibility, or promotional opportunities with further education.
6. Have a Better Attitude!
Finally, take a step back and reset yourself once that clock strikes midnight.  Even if things aren't ideal for you at the moment, try to stay positive and look toward the future.  A positive attitude can bring you great career success this year!
Dan Metz is the Director of Executive Search and Employee Development at the Resilience Group, LLC, and Co-Founder and Contributing Author for Need a New Gig.  Follow his blog for more great tips like this!