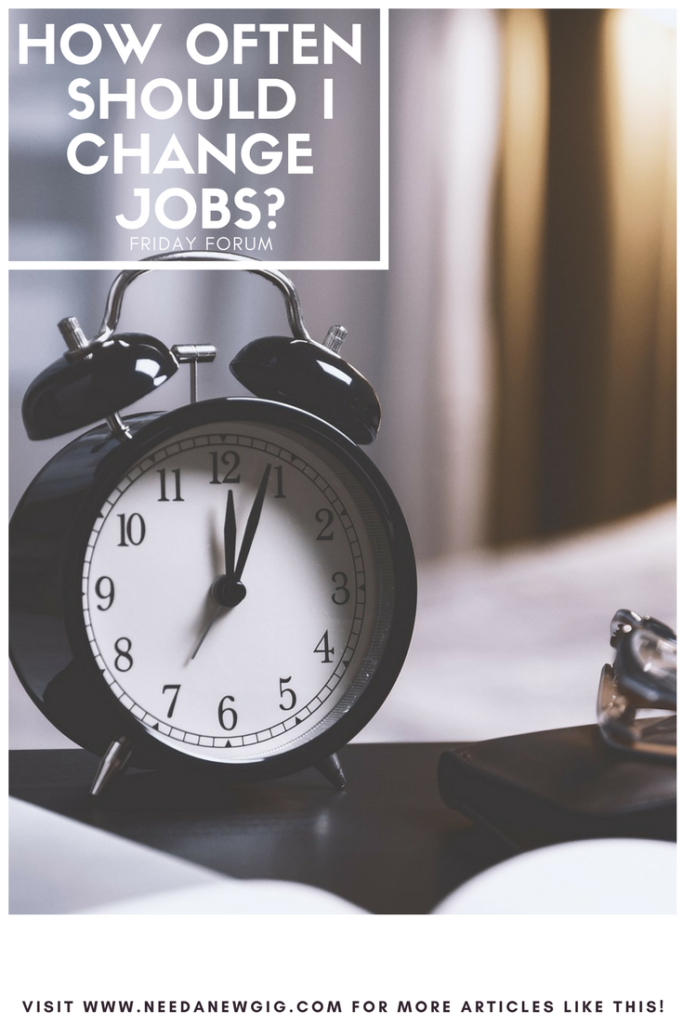 Every Friday, we take a question submitted by one of our readers and have our professionals field it and provide advice.  We then encourage you to comment below and give your personal take!
Here is This Week's Question:
CJ asks:
"I was at a party this past weekend and I was talking with a friend about our careers.  We are the same age, but he has been with three companies and I have only been with one.  Honestly, I have been with the same company since I graduated college and have taken on some additional tasks, but have been generally doing the same work.  My friend said that in today's market changing jobs more frequently helps accelerate your career.  Is this true?  How often should I change jobs?"
The workforce has definitely changed over time.  In the past many folks would join a company, work for them for 30-40 years, and then retire.  Today you don't see that as often and there are many reasons why.  Some professionals believe that the longer you stay with an organization, the more comfortable you become, leading to a halt in career progression.  They believe that in order to stay challenged and continue growth it is vital to take on new roles from time to time.
How often should you change jobs?
First and foremost, there is no concrete answer to this question. It really depends on your situation, career, and personal goals.  On average HR and recruiting professionals believe that you should change jobs every 3-5 years.  How come?  Well, the main reason is that unless you receive a promotion your position isn't changing.  If you want to keep growing and advancing your career it is a must in order to enhance your experience.
The tough part is that many people get comfortable in their position and they decide to stay put.  It may be because they like the people that they work with, or that they are used to the environment, or maybe they are just nervous to make a change.  This is definitely understandable, but it could be setting you back from achieving greater career success.
Reasons why you should change
Here are a few reasons why it may be worth changing roles every few years:
Exposure to new cultures/environments
Possible career growth/promotion opportunities
Opportunity to meet new people and enhance personal/communication skills
Helps you understand your market value
Lets you learn different industries
Give you a mental reset
Allows you to take on new challenges and additional responsibility
Outliers…
Even though professionals believe that you should potentially switch employers every 3-5 years, there are a some outlying situations where it may be better to stay put.  Some organizations are out there who still believe in grooming employees and career tracking.  If you have been promoted multiple times in your current role and still have future opportunities ahead, you may not need to make a change.  The only downside is that if something did ever happen down the line you would be limited to experience in only that particular industry.
What are Your Thoughts? Comment Below!
How often have you changed jobs in your career?  Let us know your take!
Dan Metz is the Director of Executive Search and Employee Development at the Resilience Group, LLC, and Co-Founder and Contributing Author for Need a New Gig.  Follow his blog for more great tips like this!