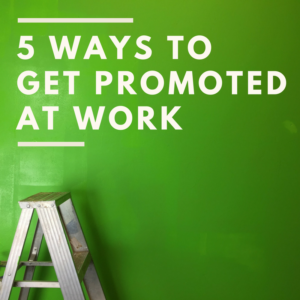 With the year coming to a close it might be time to start evaluating your current position.  You may take a look at your accomplishments over the past year and start thinking of where you would like to be as the calendar changes.  Is this the year that you get that promotion that you have always been dreaming of?  Implement these five key strategies to increase your chances of being promoted!
5 Ways To Get Promoted At Work
1. Do your best
This one may be a no brainer, but it is essentially one of the easiest ways to grow with your company.  Your past performance is a key consideration when it comes to being promoted.  Employees that have strong performance reviews, and are known as hard workers have a much better chance of receiving that promotion.
2. Help out
Do whatever you can to get more involved in the company.  This can be anything from offering to help on a new project, joining a committee, or taking on more work.  Offer to help your boss whenever you have the opportunity.  Make it known that you are willing to do what it takes to reach the next level.
3. Put in the time and be on time
Work ethic is another very important area when it comes to being considered for a promotion.  Make sure that you are always giving 100%, that your work is done properly, and that you are meeting deadlines.  Be sure that you are on time and ready for the day.  On the flip side, don't be in a hurry to fly out the door right at 5 o'clock!
4.Visibility and networking
Try your best to connect and interact with all levels of the organization.  Be sure to attend social gatherings and introduce yourself to other coworkers and upper management.  Visibility is important, so people are aware of your responsibilities, and what you do for the organization.  If you are well networked and well respected by your coworkers, it will increase your chances of being thought of when that next opportunity arises.
5. Ask for a promotion
Finally, if you have been doing all of the above and haven't had any luck, it may be time to regroup with your manager.  This is important because there is always a possibility that the company may not be in a position to promote any employees.  It is best for your to understand your growth potential in case you need to look elsewhere to reach your career goals.  Here is how you do it!
Set up a conversation
First things first – you need to find a time when you can pick your manager's brain regarding a promotion.  If you are in the process of receiving annual reviews, this could be a great time to dive into these talks.  If not, send your manager a note and let him or her know that you would like to discus goals for the new year.
Discuss
As mentioned above, it is important to see if your company is in the position, or has the ability to promote you in the near future.  Let your boss know that you have been thinking about your career growth, and that you are curious about advancement opportunities.
Set goals
If your manager says that the company is not in a position to offer promotions, it may be time to dust off that resume.  If they are open to the idea, it is vital to set goals.  Nail down the expectations of what would need to be competed to receive the promotion, and then get to work!
Follow up
Once you have reached your goals, it is time to follow up with your manager.  Let him or her know that you have been working hard, and that you are ready to move up the ladder.  Managers can get busy, so you may have to reach out a few times to keep things moving.  If your expectations have been met, there is no shame in being the squeaky wheel!  If you meet your expectations and your promotion doesn't come to fruition, it may be time to look elsewhere.
Dan Metz is the Director of Executive Search and Employee Development at the Resilience Group, LLC, and Co-Founder and Contributing Author for Need a New Gig.  Follow his blog for more great tips like this!